HMI® RODA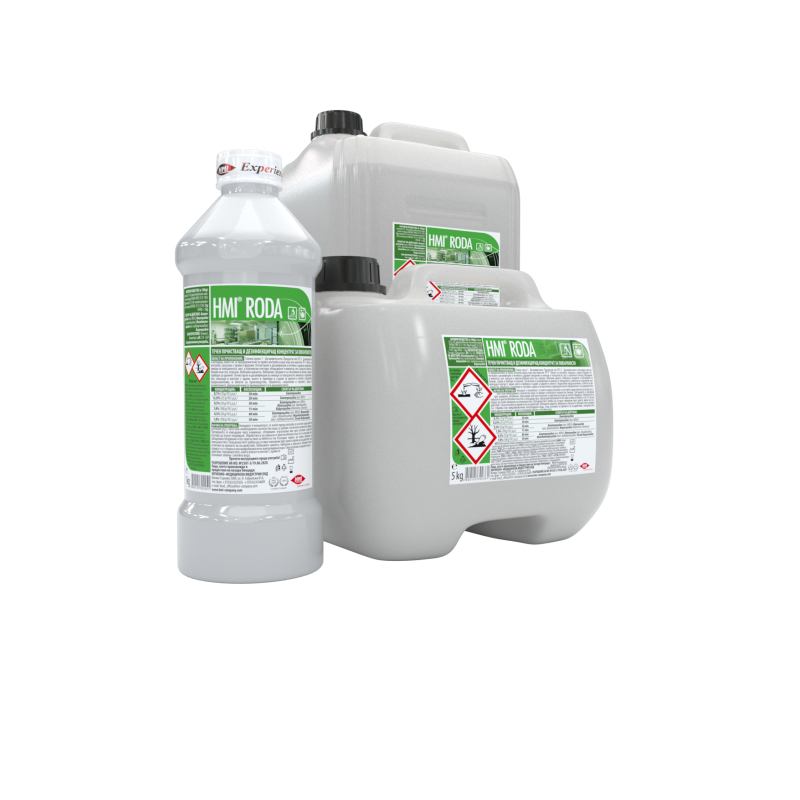 Concentrated liquid cleaning and disinfecting preparation.
ACTIVE AGENTS: QAC-benzyl-C12-18-alkyldimethyl, chlorides; C12-14-alkyl [(ethylphenil)] dimethil chloride; Non-Ionic surfactants.
SPECTRUM OF ACTIVITY: bactericide, incl. tuberculocide, fungicide (C. albicans) and virusocide (HBV/HIV, Avian Influenza A, Newcastle Disease Virus).
AREA OF APPLIATION: Cleaning and disinfection of:
Washable surfaces in hospitals and veterinary medicine - kitchens, premises, warehouses and other equipment in food production, storage and trade sites.

Vessels and kitchen utensils in healthcare establishments and public catering facilities.

Surfaces and equipment in farms for animals and birds - floors, walls, wooden and metal items, incubator stations and inventory , vehicles for animals, foods and technical products, raw materials etc, disinfection barriers at border control posts and other critical control points in animal breeding.
Concentration of the use solution: 0,25÷0,55%.

| | |
| --- | --- |
| Packagings: | 5 L container; |
| | 1 kg bottle with integrated dozing cup. |